The many aspects of the creative writing process includes designing creatures never seen before. I love this process! It brings the fantasy world to life and enables visual representations that make it real for the reader. One such creation was the Megatrath.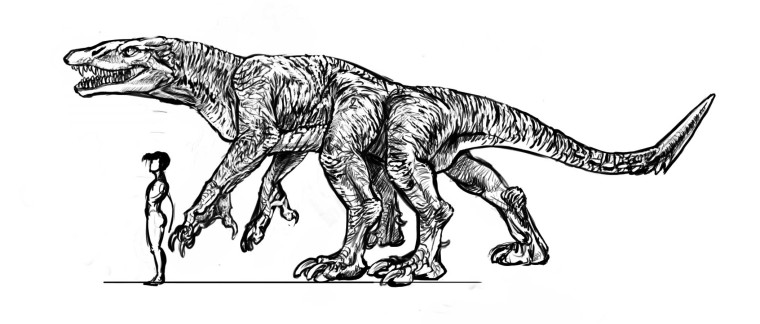 Dragons, elves, fairies are all great in fantasy fiction. Also, they are undeniably linked to classic and established fantasy. When writing your own fiction the last thing you want to do is appear to be stuck using other writers' ideas. While I do appreciate using the classic fantasy creatures in my stories, I find greater satisfaction in designing new ones.
In my old fantasy sketchbooks I have a wealth of creature ideas. These were first conceived of during the initial creation of The Sword of the Dragon story. Looking back, I am glad I took the time to create not only written content, but sketches and maps, too.
For the Megatrath I drew inspiration from the head of an alligator, the tail of a lizard, the feet of a dragon, and then I gave it six legs. The sketch that you see in this post is artist Amber "Vantid" Hill's representation of one of these creatures. It was not easy at first to get her to sketch what I had envisioned. The process took several hours of live video chat so that the Megatrath turned out right.
You will recognize this creature from my novels Offspring and Key of Living Fire.
Question: Have you envisioned any original creatures that you would like to see used in fantasy novels?
______________________________________________________________
Subscribe to get my blog posts directly in your inbox!