My wife made the suggestion that she take our 3-year-old daughter to see Disney's remake of Cinderella. Inevitably it ended up being a family trip. The local theatre in town has a Tuesday all-day special price that we've taken advantage of before. Coming into this film having already loved Maleficent, I was curious if Disney could succeed in turning another classic cartoon into a worthy live-action film.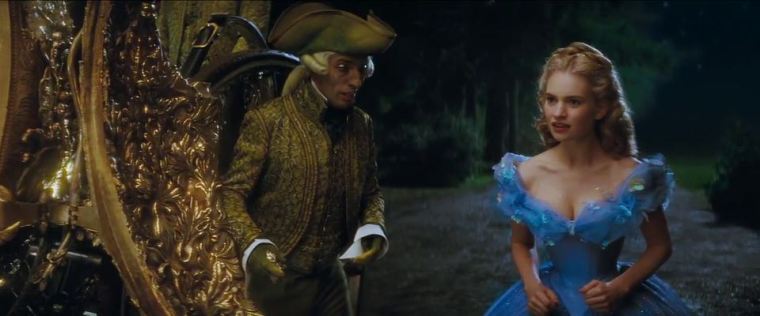 Cinderella's character is honorable in this story and, I think, extremely likeable as well. The supporting cast of actors and actresses filled their roles almost seamlessly. The one exception, I felt, was the fairy godmother. Same actress as the Queen of Hearts in Disney's live-action Alice in Wonderland. Her personality was so strong that it jerked me out of the fairytale, albeit for only a few moments. Even then I can barely complain as she did play her part well.
So, did Disney succeed in reviving the old classic? I think they did. The overarching theme of love and forgiveness at all costs is a noble part of this story.
Disney seemed to steer away from incorporating non-traditional-family-values into the film. The only point I found a bit "preachy" was how Cinderella convinced the hunter to let the stag get away. All of the big film studios seem bent on convincing us that the life of man is of equal value to that of the beasts and creatures of this world. It is not.
God made the beasts for man, and sacrificed beasts for man. Yes, we need to value the lives of the creatures in this world. Life is a precious gift that is too often taken lightly. Perhaps this is Cinderella's intent. Perhaps merely a reminder that we are so absorbed in ourselves that we devalue the creation around us.
Cinderella takes us to the heart of God's love (though God is not mentioned in this story) by offering us a noble heroine who rises above the scum around her to be a truly good person. I think the greatest message behind this movie is that a great hero or heroine rises above their circumstances to do the right thing… no matter what the cost. We need more fiction exemplifying these values.
Question: What was your impression of Cinderella?
______________________________________________________________
Subscribe to get my blog posts directly in your inbox!