Introducing debut novels is a great pleasure when I know that the novelists share my passion for great fiction and for the Lord. Nathan Lumbatis hired me a couple years back to do an editorial review of his manuscript and he's been working hard on it ever since! The story stood out to me for its uniqueness as it pits young protagonists against Peruvian 'gods.'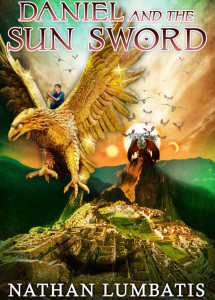 Thirteen-year-old Daniel is about to be adopted. But when he learns his new family wants him as a slave, he runs away with the help of his new neighbors, the naïve and cowardly Ben, and Raylin, a mysterious girl with a shady past. He begins to second-guess his decision, however, when the cave they hide in transports them to the ruins of Machu Picchu, where they find themselves embroiled in a battle between ancient gods of Life and Death. To top things off, the God of Life draws Daniel into the fray by adopting him as his son and setting him on a quest to complete a broken, mystical sword, a task that will pit him against the god of the underworld.
Now, Daniel and his friends have just one weekend to find the shards before a hoard of supernatural enemies catch up. But that's not all they face. A trap has been set that even Daniel wouldn't expect, and he just took the bait. Will the power of his Heavenly Father be enough to save them?
Daniel and the Sun Sword will be published by Ellechor Media in JULY 2015.
Nathan Lumbatis grew up in the woods of Alabama, where he spent his time exploring, hiking, and dreaming up stories. Now, as a child/adolescent therapist and author, he's teaching kids and teens how to redeem their stories using Biblical principles. He counsels at Dothan Behavioral Medicine Clinic and is a member of First Presbyterian Church. He still lives in Alabama, where you will find him with his wife and three kids every chance he gets.
Be sure to check out Nathan Lumbatis on his Website!
______________________________________________________________
Subscribe to get my blog posts directly in your inbox!